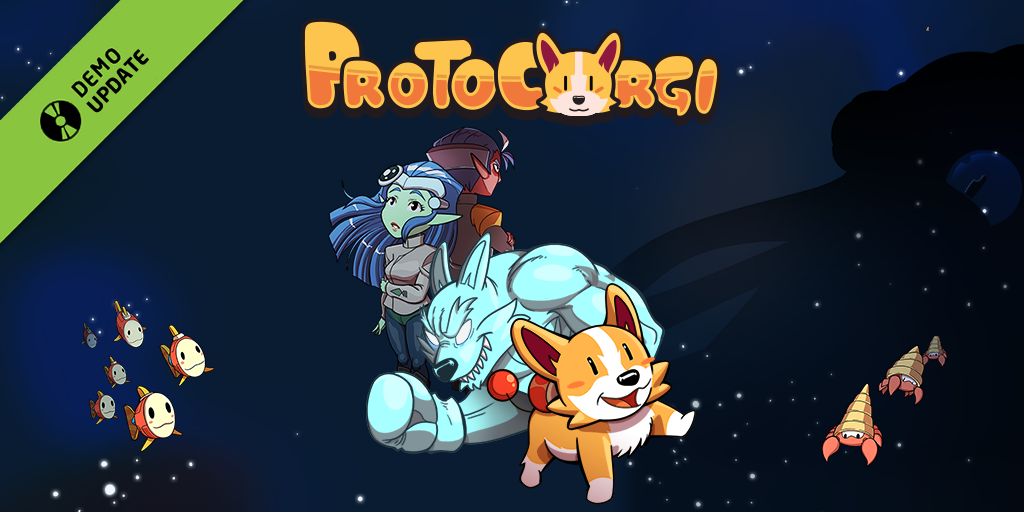 Hello Guys!
We updated the ProtoCorgi Demo!
We implemented many changes from initial version (0.16), the most relevant ones are a complete rework of systems and difficulty, change side holding a button, lock option rotation, progression, shorten tutorials, full screen support and more!
Download the latest version from Steam, avalaible now for Mac and Linux!:
https://store.steampowered.com/app/1039280/ProtoCorgi/
or itch.io:
https://kemonogames.itch.io/protocorgi-demo
And if you like our work, don't forget to add ProtoCorgi to your wishlist!.
Detailed Changelog:
v0.25.7:
❤❤❤ Hitbox is represented now by a heart ❤❤❤
Options rotation lock added when the player is shooting.
Shield Bomb damages enemies and makes the player invulnerable.
Overdrive Bomb orbs damage enemies.
Better difficulty curve, more easy at early levels, same difficulty at end levels.
Shorten tutorials.
Fish ship master can't shot behind.
Turret snail shot are limited in early difficulties.
Greatly reduced Guardian Eye Boss health points in early difficulties.
v0.25.5:
Added full screen support (alt + enter).
Added more music.
v0.25:
Reworked suicide bullet system.
Reworked the speed of bullets and enemies in all difficulties.
Added alt, shift and control key support.
v0.24:
QoL galore.
Reworked the powerup system.
Player could change side holding Animal Spirit button.
Magnet behavior for fruits and player death drops.
Added progression.
v0.20:
QoL changes.
Highscores per difficulty.
v0.16: