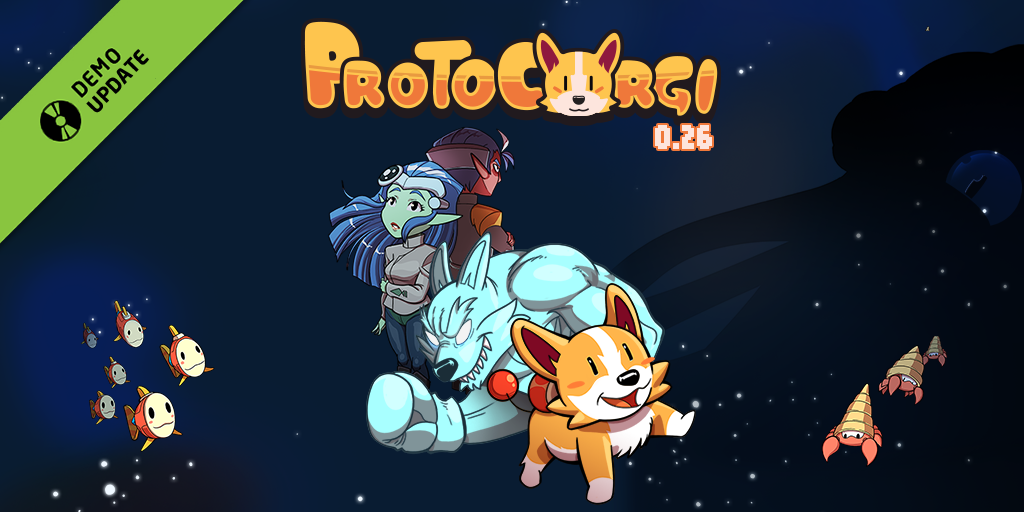 Hello Guys!
Here is a new update of the ProtoCorgi Demo!, and this is a big one!
We fixed almost all of the bugs, better powerup management, giant fruits, some optimizations and reworked the menu with more options!
Feels like a new game now!
Download the latest version from Steam!:
https://store.steampowered.com/app/1039280/ProtoCorgi/
or itch.io:
https://kemonogames.itch.io/protocorgi-demo
And if you like our work, don't forget to add ProtoCorgi to your wishlist!.
Detailed Changelog:
v0.26:
When the player get a new powerup drop the old one at max level.
Anemone body health is reduced in later difficulties making them harder to deal with homing missiles.
Added giant fruits.
Menu reworked with framerate, full screen, screen scale and many more options!.
Pool most used scenes at start.
Reworked bullet system, fixes bullet layering problems, bullets dying if the enemy dies or anemone plasma beams outside sceen/after eye dying.
Fixed black hole attraction, detached anemone eyes work as intended now.
Fixed analog not working in menu.
Added secret codes.
Enemies can't be damaged or damage player outside screen. No more turret snails dying outside screen doing nothing.
Animations don't run if the objects are outside screen.